Value Yourself & Self – Care Activity
Self-Care is vital for managing your mental and physical health. Check out the information below. Look at areas of life where self-care makes an impact. 
Do you accept the challenge and will you look at the areas of your life to determine if you have what you need?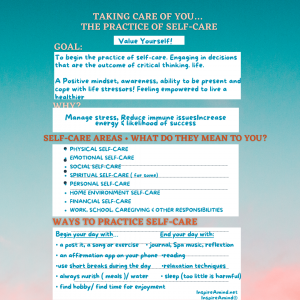 GOAL: To begin the practice of self-care. Engaging in decisions that are the outcome of critical thinking. Managing your life in a healthier way!

Positive Mindset
A positive  mindset, awareness, ability to be present and cope with life stressors! Feeling empowered to live a healthier.
Decrease Feelings of Overwhelm
Manage stress, reducing immune issue's, and increasing energy and the likelihood of success.
SELF-CARE AREAS • WHAT DO THEY MEAN TO YOU
PHYSICAL SELF-CARE





EMOTIONAL SELF-CARE
SOCIAL SELF-CARE





SPIRITUAL SELE-CARE (for some)





PERSONAL SELF-CARE
HOME ENVIRONMENT SELF-CARE





FINANCIAL SELF-CARE





WORK, SCHOOL, CAREGIVING & OTHER RESPONSIBILITIES
IN WHAT WAYS WILL YOU PRACTICE SELF-CARE ? 
Begin your day with…
a post-it ( quote or inspirational saying or word) 
a song ( inspirational) 
or exercise (feels good) 
During the day…
use an affirmation app on your phone
take short breaks
always nourish ( meals)/ water
find hobby or enjoyable activity
Find a work / life balance.
All enhance mood⬆️
End your day with…
relaxation techniques
reading
reflection
spa music
sleep ( get enough restful sleep)