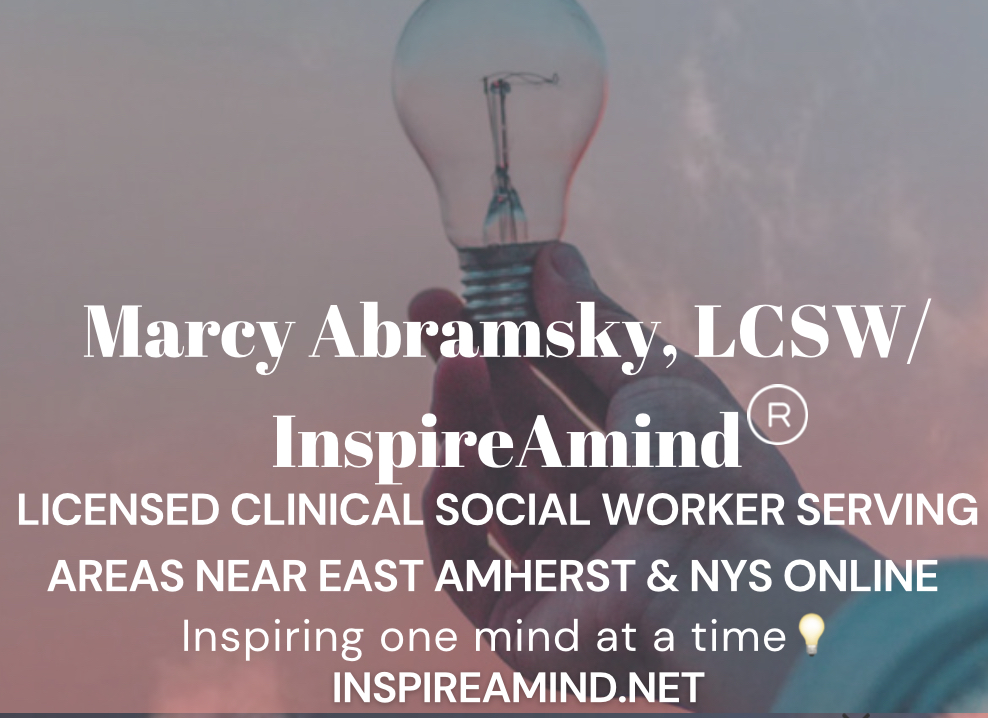 Welcome
"In A World Where Challenges & Demands Often Don't Wait…   GET INSPIRED TO MOVE FORWARD And Face The Obstacles That Lie Ahead… As Opportunities…" ~M. Abramsky, LCSW 
Simple * Supportive * Effective   
Learn The Skill Behind Decision Making!
Define Your Personal Success!
Get Inspired & Gain Skills to Help You Succeed!



Most of us have needed support at different times in our life.
BASICS: Check out Marcy Abramsky, LCSW~ Adults, Young Adults, Teens, Parents & Caregivers!
Motivation, Stress, Personal Growth, Parenting or School Issues, Transition ( new job/ new school/ college), health related issue ( COVID) and more.. SEE OTHER SERVICES on this page!
Students & Parents …help is here from a NYS licensed Clinician @ InspireAmind.net

Pre-teens, Teens, Adults, Seniors & Caregivers

Gain Support from Group Members Going Through Similar Situations, Resources, and Peace with Feelings of Anxiety and Overwhelm.
~Media Around NY & Nationally~🌎
Media•2021🔘 Podcast 🎙Interview 📰 Article 🗞Ad    YouTube▶️
visit: Activities for Change Visit this page to Maintain A Positive Minset!!📝 InspireAmind.net  mindset🧠
••••••••••••••••••••••••••••••••••••••••••••
Individual, Family or Student Group Support: Do you have concerns managing issues as a parent, teen, senior or caregiver?👥
Check out Blogs & Activities too💻
Reboot Friendships, Get Ready for the Next Grade Level, Build Skills that Make You Feel Empowered to Get Back to Your Life…
WHAT OTHER SERVICES ARE AVAILABLE?  …MORE INFO~

Guidance: Do you suffer from unwanted symptoms of  anxiety, feelings of stress, overwhelm, loss, isolation, or self esteem?
Level Up: Maybe you've actually been thinking of taking the next steps in your life. You need more job fulfillment, thoughts of leveling up in your career, as a parent, teen, young adult, or senior and wondering about the future…
Strength: You have already shown that you have the strength you need to get started. It's a common mistake to underestimate the courage it takes to ask for help. You have stepped up by looking for a therapeutic professional to coach and support you in this journey,  You are headed toward achieving wellness in a fast paced, demanding world.
Build the Skills to Manage Powerful Challenges 
Enhance Self Confidence and Set Personal Goals to Design a Path Toward Your Future
Stay Positive: Remember, all of us battle many similar issues. It is our background, support, vision, coping skills, and strategies, sets us apart in how we manage life challenges.
The Skills To Cope: How we cope is greatly influenced by how we see the world. The ability to accept support, assists us in getting a fresh perspective. As we begin to see things through a different lens, this new perspective becomes a powerful tool in developing the mind as a muscle; this is an essential part of moving toward the life changes you seek.
The more support you gain, the greater possibility for success!
Focus on any unwanted symptoms of stress or anxiety & build more self – esteem
Stress relieving, goal setting or just finding what is REALLY something you would love to do for a living … its all connected! 
Positive practices and spirituality no matter your religion. Stay grounded and calm with positive thoughts and energy!!

Groups for Parents @InspireAmind.net
Option

1 Parent Groups 
: 1x wk. Approx
6 weeks 45-50 min. sessions
Times: Day & Evening sessions available!
Option 2 Parent Groups : 1x wk. Approx.6 wks. 75-80 min sessions
Times: Day & Evening sessions available!
Contact Today💡

Groups for Students/Tweens, Teens & Young Adults
@InspireAmind.net (3-6) per group* …Contact Today
💡
Option 1
St
udent /Young Adult groups:
1x wk. 6wks 45-50 min. sessions
Times: day, lunch and evening times available 
Option 2 
Student/Young Adult groups: 
2x wk. 3 week FAST TRACK Prep Groups 45-50 min sessions
The FAST TRACK group is available to provide skills that increase overall management of life and coping skills at a FASTER PACE. Keep in mind that that every person is different. This is a more intensive experience to build skills. Skills: social skills, academic organization and confidence, and general life skills.
GROUPS: Build a support network within the group setting.
Individual & Family sessions avail. all topics
See Specialties Page for topics
Please contact me to schedule an appointment 
I look forward to helping you make the first step toward your well being.
---
The Benefits of Therapy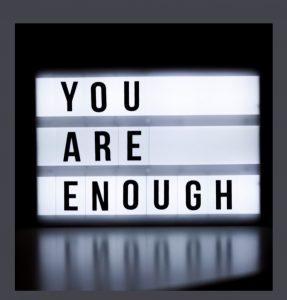 Therapy: Psychotherapy can be an effective tool in providing you with the necessary support and strategies to overcome the challenges you face. By seeking therapy, you are taking control and action to change what no longer works in your life.
Approaches: Utilizing a variety of approaches including Cognitive/Cognitive-Behavioral, Existential/Humanistic, Person-Centered, Solution-Focused Brief Therapy, I will work with you to create a treatment plan that is customized to meet your unique circumstances.
Believe: Believing in yourself, grants you access to a different perspective. When you believe in yourself, you will have the ability to generate more ways reach your goals! My style is flexible, empathic and motivating. I help my clients see what is written in the bright lights above… all the benefits to a mindset that "YOU ARE ENOUGH" and inspiration that keeps you moving!
Challenging Moments and Strategies: However, for many people, it can be a tough concept to connect with. Each one of us holds on to our insecurities. When challenging moments come along, it's not always easy to harness the belief that we ARE enough. At times, we need support to see our life issues through different lens. I can provide that and assistance in gaining strategies that will help you to believe that you really are… enough!
Self-Compassion: In addition, building skills of self-compassion allows you to move more easily through difficult times in the future, increase your motivation, and improve your mood! As an experienced licensed clinical social worker, it is my honor to assist you in exploring your core issues and move toward a healthy, fulfilling life.
"Your present circumstances don't determine where you can go; they merely determine where you start."

– Nido Qubein